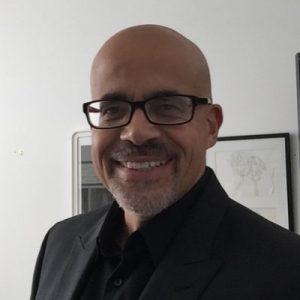 AIGA Board title / years serving:
Vice President / less than a year
Area code/ Where do you live?
518 / Cohoes
Work title / employer:
Creative Director / Creative Culture Design & Digital
Assistant Professor Graphic + Media Design / Sage College
Favorite thing about UPSTNY AIGA:
I really enjoy all the opportunities we have for members to get involved. I'm also really jazzed about the variety of members we have all over the state.
Why do you volunteer?
I have always been involved in organizations in some form or fashion. Before AIGA, I was part of the Graphic Artists Guild. I love the idea of being part of an organization where designers or creatives in general can gather to compare notes and pump each other up.
Your favorite designer or personal mentor:
I have several favorites: Massimo Vignelli, Jessica Walsh, Paula Scher… I could keep going.
Favorite design resource:
Not sure I have one. I listen to random podcasts like Hidden Brain just to explore topics outside of design. I love tutorials because I am always hungry to learn new skill that I can incorporate into my creative process. As far as book, I am still an old school book guy. Gotta love the smell of new books!
What do you love to do outside of design/work/aiga?
I walk my pups… a lot! I definitely need to work on curbing their desire to go for walks every 2 hours! It does wonders for my FitBit count though.
What would your design superpower be?
Instant Payment Clairvoyance
Website: ourcreativeculture.com
Handle: @elihernandezjr