Mikey Burton // Will Work For Work
Thursday, March 21, 2013 / Utica
If you look at the landscape of design today, you'll notice the trend of self-motivated work. Designers, illustrators and all sorts of creative people are not just merely waiting around for dream clients. They are dreaming up passion projects and bringing them to fruition with their own blood, sweat and tears. Through these labors of love, others (employers, art directors, and possibly clients) may see how passionate you are about your profession and want to work with you.
DETAILS
Thursday, March 21, 2013
6:00 PM - 9:00 PM
Radisson Hotel, Utica Centre
200 Genesee Street
Utica, NY 13502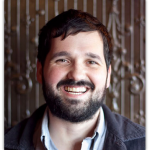 An Ohio native, Mikey Burton proudly describes his design aesthetic as "Midwesterny" and draws much of his inspiration from artifacts found throughout the hardworking, blue collar Rust Belt: old type-specimen sheets, arcane equipment manuals and ancient textbooks. Burton has received awards from Communication Arts, Graphis, HOW, Print and ADC Young Guns. He is now a freelancer in sunny Philadelphia where he designs and illustrates for such clients as The Atlantic, Bloomberg Businessweek, Converse, ESPN, Facebook, Fast Company, Monocle, Newsweek, The New York Times, The Wall Street Journal, Wilco, Wired and you.
Generously sponsored by:
PJ Green | 484 Design | Positive + Space | Rob Perry Design
T.C. Peters Printing | G.W. Canfield & Sons | Avalon