Join Adobe Community Professional Kevin Stohlmeyer as he shows the newest features and benefits of Adobe Creative Cloud, including new updates to Adobe InDesign, Photoshop and Illustrator, benefits and features of your membership, and new software making it easier for creatives to reach a wider audience. Bring your questions and be ready to be amazed at the latest offering from Adobe!
About Kevin Stohlmeyer
Kevin is a designer specializing in digital images with over 20 years experience in the field. He has been teaching professionally since 2000 both in higher education and at C2 in Milwaukee. A self-proclaimed geek, his experience with publications, workflows and digital illustration enhances his credibility as an Adobe Certified Instructor.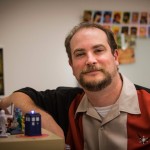 He serves as the Higher Education Coordinator for C2, Wisconsin's only AATC. He has been featured in Photoshop User, Layers and Adobe Inspire Magazines and is the live on-site correspondent for Photoshop World Conference. Kevin is also a member of the Adobe Freelance Professionals Team and Community Professional, specializing in design and  Adobe Creative Cloud. He has been a featured presenter nationally at User Groups, AIGA events and conferences like Photoshop World and Adobe MAX.
Generously Sponsored by: