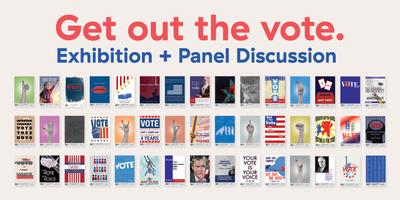 Monday, October 24, 2016 / Seneca Falls
Populating the Polls: Then and Now
This panel marks the opening of the Get Out the Vote Exhibition. This panel will explore the history of suffrage, contemporary hurdles at the polls and the visual culture of suffrage and voting to provide context for the exhibition. Attendees will have the opportunity to participate in the Q&A after the panel presentations.
Panelists include:
Abigail Glogower, PhD Candidate in Visual and Cultural Studies, University of Rochester

Dr. Allison Rank, Assistant Professsor of Political Science, SUNY Oswego

Yusuf Abdul-Qadir, CNY Chapter President, New York Civil Liberties Union
The exhibition and panel discussion are free and open to the public. Seats are first come first serve.


---
Get Out the Vote Exhibition
October 24 - November 30
Wednesday - Sunday
9:00am -5:00pm
Exhibiting designers: Doug Bartow (Troy), Charlene Bluto (Syracuse), Mary Boynton (Manlius), Leslie Buccino (Albany), Mari Caminiti (Syracuse), James Chantry (Cazenovia), Tanner Chauvin (Chazy), Holly Cooper (Cazenovia), Jess Confer (Ithaca), Marjorie Crum (Rochester), Damian Cueller (Brooklyn), Elaine Michele Denton (Manlius),  Ryan DeTomi (Norwich), Paul Engel (Schenectady), Joanna Giansanti (Syracuse), Andrew Gregory (Rensselaer), Randy Hadzor (Syracuse), Paiige Hart (Oswego), Rebecca Kieffer (Canton), Bill Klingensmith (Rochester),  Jenna Koyama (Syracuse), Connor Lee (Syracuse), James Lewis-Van Vorst (Burnt Hills), Jessica Lucia (Albany), Kelly McInerney (Monroe), Rebecca Mushtare (Oswego), Jared Schafer (Albany),  Dan Shick (Buffalo), Ariel Smullen (Amsterdam), Renée Stevens (Syracuse), Sara Tack (Troy), and Allison Valiquette (Ballston Spa), Kayley Wells (Canton).
Can't make it to the exhibition? Check out our online exhibit.


---
This program is offered in collaboration of the Women's Rights National Historical Park. Exhibition printing was provided by Mohawk.
Saturday, November 12, 2016 / Syracuse

Get Worked Up is a one-day conference for emerging and student designers. This conference is part of the AIGA Emerge initiative focused on designers who are just launching their careers to those who have up to five years of experience in the field. Participants will have the opportunity to: (1) meet, interact and collaborate with their Upstate New York Peers; (2) Sharpen design skills during the hands-on design workshop; (3) prepare to dive deeper into the design profession with talks on the importance of finding a mentor, public speaking, the business of design, landing a job, and being involved in the design community; (4) Q&A about the design profession with the speakers -- don't be shy, ask what you really want to know.

This year's conference features Keynote speaker, Ram Castillo. Ram is an award winning Design Director, Blogger, top-ranking Podcaster, Speaker, CreativeLive.com Instructor and Author of two internationally acclaimed books; 'How to get a job as a designer, guaranteed' and 'How to get a mentor as a designer, guaranteed'. He's based in Sydney, Australia and in 2012, started the blog (and now also a podcast) GiantThinkers.com which helps thousands of design students and graduates be employed. Ram has since been featured in Communication Arts, HOW magazine, Herman Miller, AIGA.org and Apple.

---

SCHEDULE (more details coming soon)

9:30am - 10:00am
Check-in and Coffee/Tea

10:00am -11:00am 
Maker Workshop, Chris Harrold

11:15am - 12:15pm
Keynote Speaker, Ram Castillo (Giant Thinkers, Sydney, Australia)
"How to Get a Mentor as a Designer"


12:15 - 1:00pm
Lunch

1:10pm - 1:30pm
Karl Heine (creativeplacement®, South Norwalk, CT)
Beyond the Black Hole

1:30pm - 1:50pm
Jennifer Wilkerson (Aurora Design, Niskayuna, NY)
Freelance Isn't Free

1:50pm - 2:10pm
Michelle Roberts (Novus/Messenger Birds, Rochester, NY)

2:10pm - 2:30pm
Break

2:30pm - 2:40pm
Theresa Hans (IBM, Poughkeepsie, NY)
What You Say Is Important. How You Say It Is Essential

2:40pm - 3:00pm
kHyal (Fizz Agency, NY/CT)
Personal Branding and the Evolution of the Pink sKwirl

3:00pm - 3:20pm
Samantha Fuller (Raymour & Flanigan, Liverpool, NY)
Under One Roof: working as an in-house designer

3:20pm - 3:40pm
Doug Bartow (id29, Troy, NY)
Get Hooked Up

3:40pm - 4:00pm 
Break

4:00pm - 4:30pm 
Q&A with Design Professionals

4:30pm Wrap Up




---

Registration includes lunch and a copy of Ram Castillo's book, How to get a mentor as a designer, guaranteed.






Tuesday, November 15, 2016 / Albany

AIGA EMERGE will offer a series of experiences tailored to help the emerging designer hone their skills, discover their talents, and grow their career.


Tuesday, November 15, 2016 from  6 - 9p.m.

6 - 7pm: Workshop in Art + Design building on 3D printing
7 - 9pm: EMERGE event in the Opalka Gallery featuring 5 topics 5 speakers
Sage College of Albany | The Opalka Gallery

Free for students and active AIGA members. $15 for non-members


Speakers for the event:

Rob DeLuke
Vice President and Creative Director at CCA - Speaking on Employment


Casey Fisk
Creative Director at boogie - Speaking on Leadership



Jared Schafer
Director of Motion Graphics at Upside Collective - Speaking on Growth


Becca Kennedy
Co-Founder and UX Researcher at Kennason - Speaking on Entrepreneurship


Michael Oatman
Artist and Professor of Architecture at Rensselaer - Speaking on Life Skills
September 12, 2016 / By AIGA Upstate New York
| | |
| --- | --- |
| | May 5, 2016 / By aigaupstatenewyork |
| | |
| --- | --- |
| | May 5, 2016 / By aigaupstatenewyork |