Following is a brief summary of the presentations from Get Worked Up conference, September 22.
Part 5
Present Yourself
— Milo Axelrod
There is no escape; you need a portfolio. Fortunately, Milo is really good at making portfolios, and shares some tricks that they have learned to make your portfolio creation process less painful.
Your portfolio will probably be in a digital format, and it will be viewed and reviewed by non-designers and designers. Most likely, you will not be there to explain the background about each entry, so it's extremely important for your work to be able to speak for itself.
Milo breaks down portfolio creation into three steps: 1. Outline, 2. Inspo, and 3. Assembly. Keeping these categories in mind can help you untangle and clarify your projects.
1. Outline
Think about your projects from the viewer's perspective. Make an outline to determine exactly what information you want to include in your portfolio entry. This can help give your projects context and help you present your projects succinctly and effectively.
A case study is your portfolio's crowning jewel.
2. Inspo
Take some time to investigate what is already out there. Find out how other designers present similar projects.
Look at how other people handled similar projects.
3. Assembly
When you put your portfolio together, use the tools that you already are familiar with. This is NOT the time to learn new stuff — stick with what you already know. Also, speed development along by taking advantage of the assets available from the design community, like free mockups.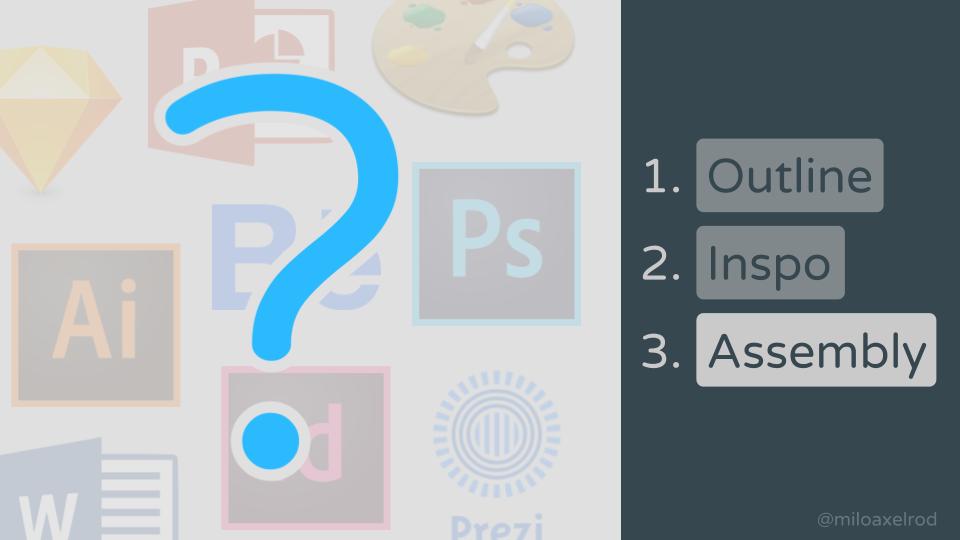 Putting together a portfolio is time consuming, hard work. If you put Milo's strategy to use though, constructing your portfolio will be less overwhelming and painful. You will end up with an awesome portfolio that speaks for you.
Take Away: Care. Be willing to do the work. Free stuff is good.
Milo Axelrod
Behance: /Milo on Behance
Podcast: Describing a Rock
Twitter: @miloaxelrod
Website: Milo Axelrod
More presentations from Get Worked Up:
More information about the AIGA Emerge program:  https://www.aiga.org/emerge

Upstate New York Twitter: @AIGAUPSTNY
AIGA Emerge: #aigaemerge